Recently, the Defender Forge GK-345 mechanical keyboard was announced and it immediately caught our attention for several reasons: brown switches, hot-swap capability, compatibility with various devices, as well as its compact size and classic color scheme. Moreover, all of this comes at a relatively low cost. Let's dive into the details.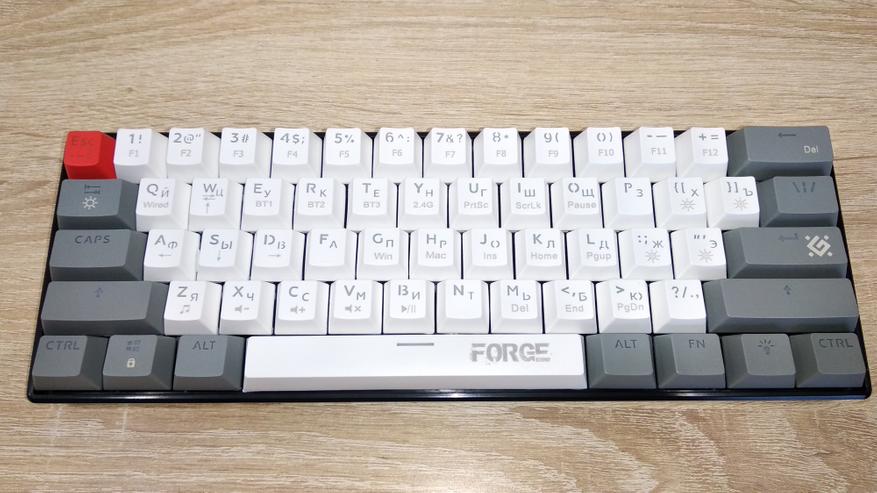 Contents:
Technical specifications of the Defender Forge GK-345
Packaging, design, and accessories of the Defender Forge GK-345
Using the Defender Forge GK-345
Summary
Technical specifications of the Defender Forge GK-345:
Model: Defender Forge GK-345
Type: 60% mechanical keyboard with backlighting and multiple operating modes
Switches: Outemu Brown
Keycaps: ABS double injection
Number of keys: 61
Features: Multiple connection options, additional keycap set, 3 tilt angles, easy replacement of keycaps and switches (tool included)
Backlighting: RGB, mode and color selection without additional software, can be turned off
Software: Several options available (details in the review)
Cable: 1.5m USB
Dimensions: 292*101*39-50mm (measured)
Weight: 445g (weighed)
Packaging, Design, and Accessories of the Defender Forge GK-345
The box can be considered large for such a small keyboard, but that was because I didn't study it well enough from the outset.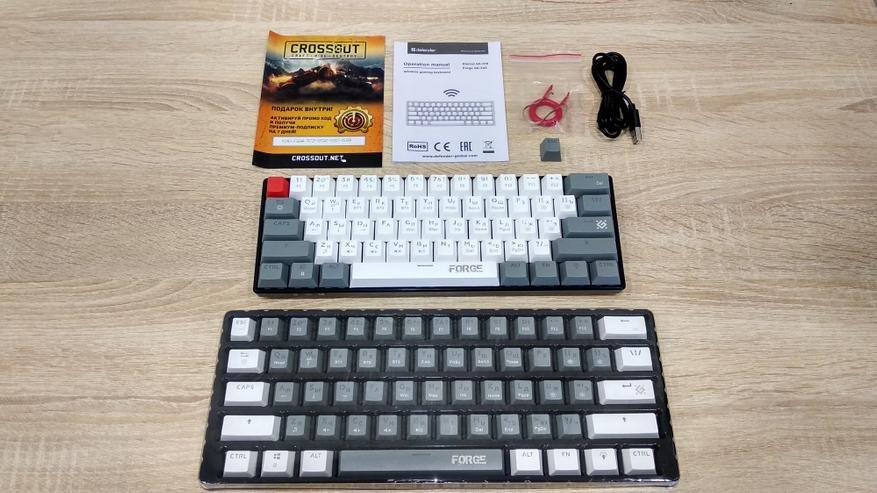 There is enough information on the box to form an initial opinion about the device. The design, features, accessories, specifications, key combinations, and other details are all described in great detail and demonstrated visually. The package is not the richest, but an additional set of keycaps is not something that every keyboard comes with. It is precisely because of this accessory that the box is thicker than it could be, and it was a surprise for me because I did not study everything on the box well enough the first time around. But everything has its time.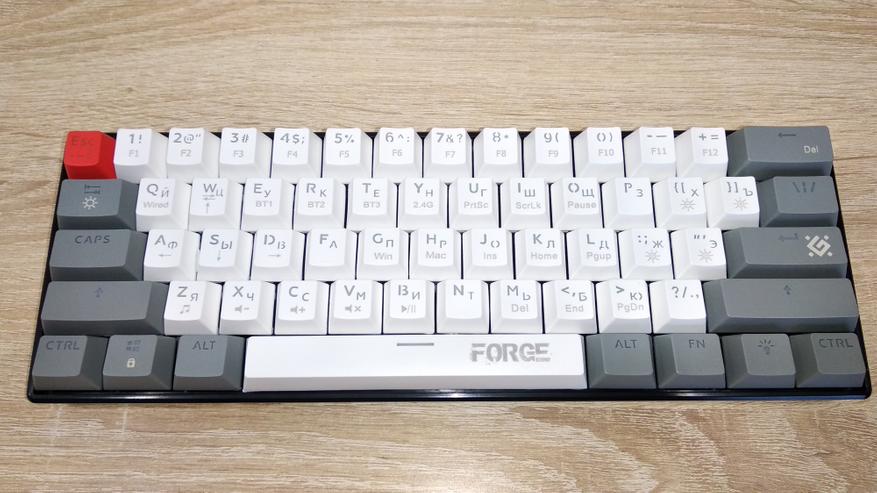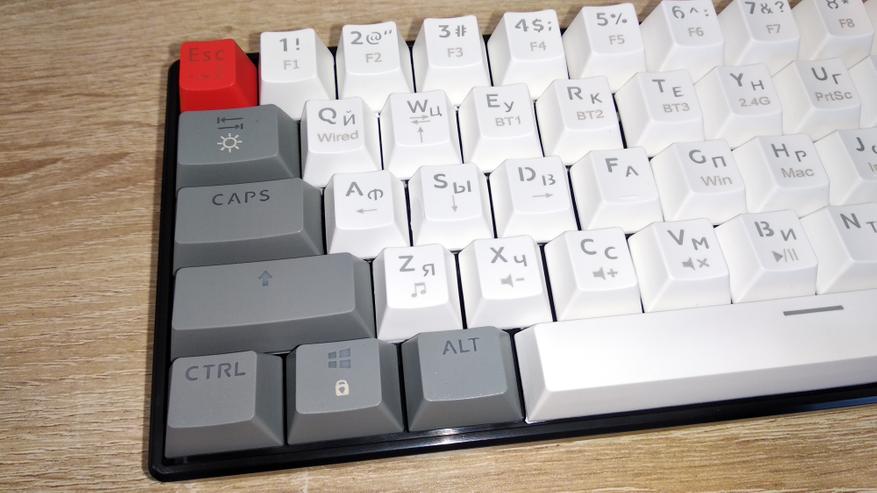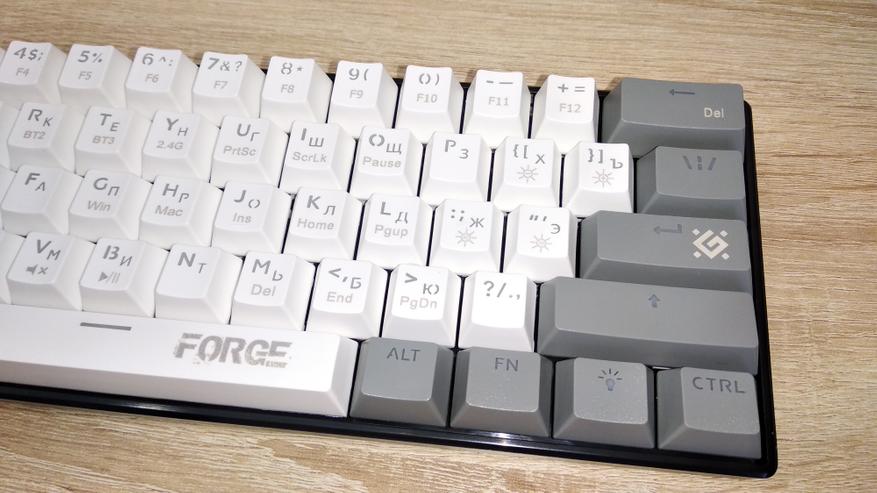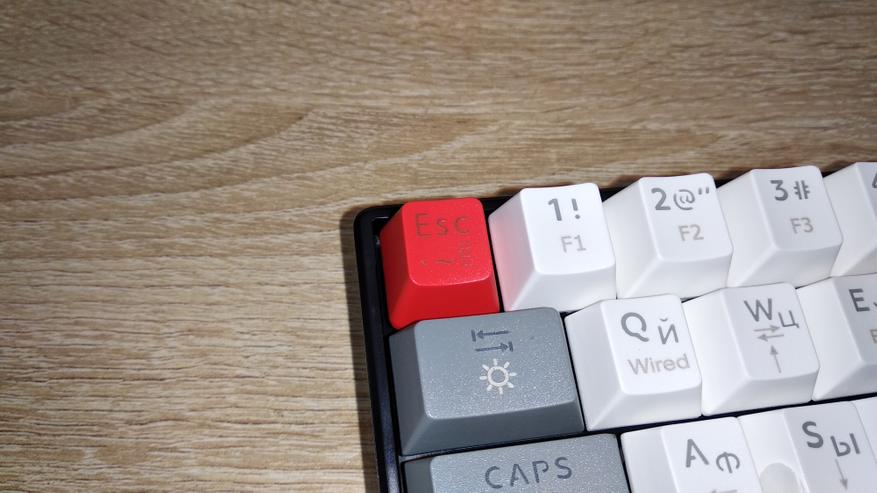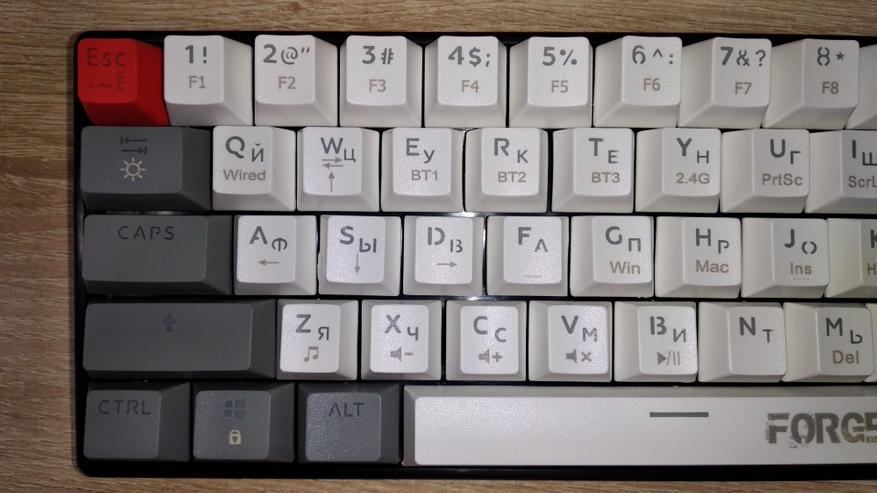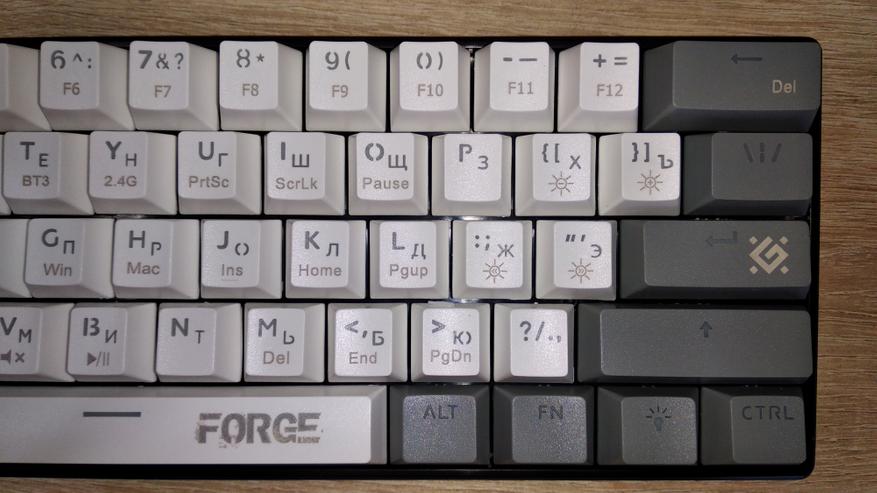 The keyboard is made entirely of plastic, with a black body and keycaps in two colors: dark gray and white, which makes for a very classic and timeless combination. However, the bright red Esc key immediately catches the eye. The keyboard is very compact, approximately 60%, without any extra wide areas on either side. There will certainly be opponents of this design as well as supporters. Those who only use the computer for gaming do not need about a third/half of the keys and need more space for the mouse (for those who play with low sensitivity and move the mouse all over the table). Also, such compact keyboards are perfect for remote work or use with a TV. There are many connection options available: wired mode, 2.4GHz dongle, or Bluetooth.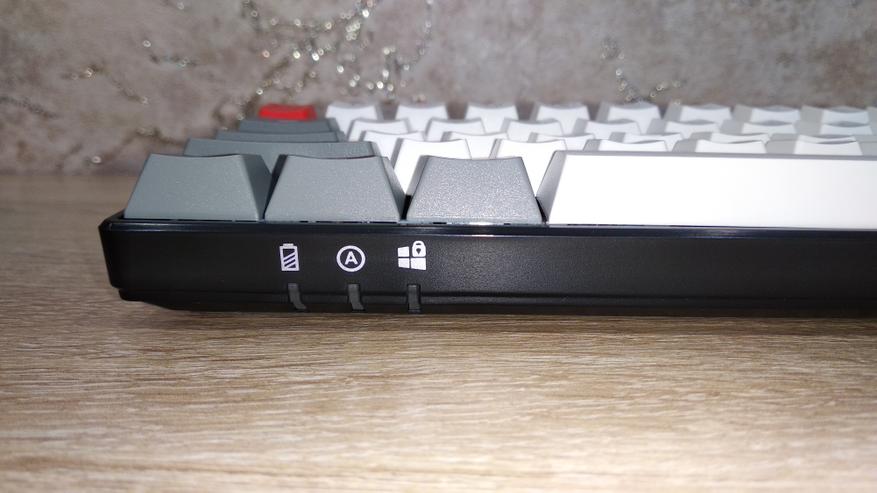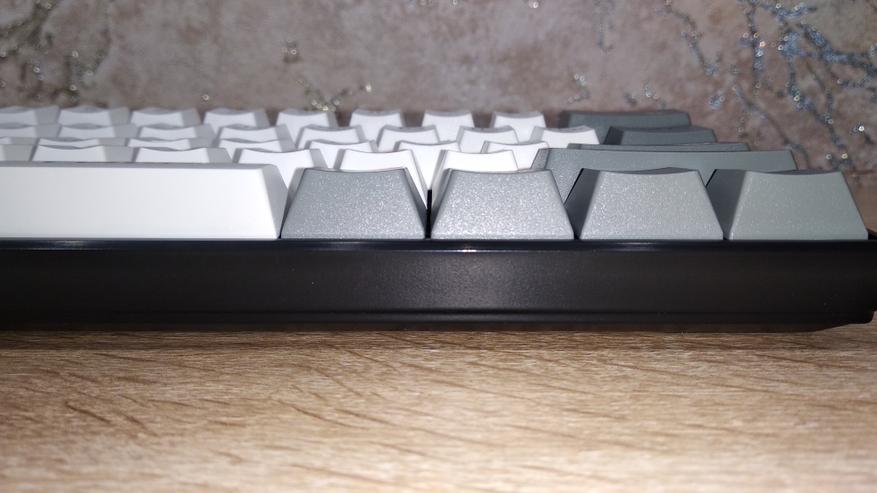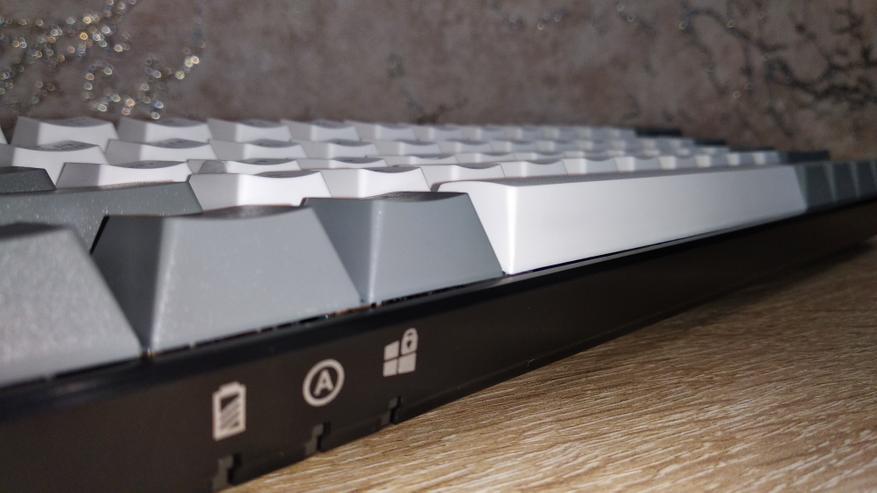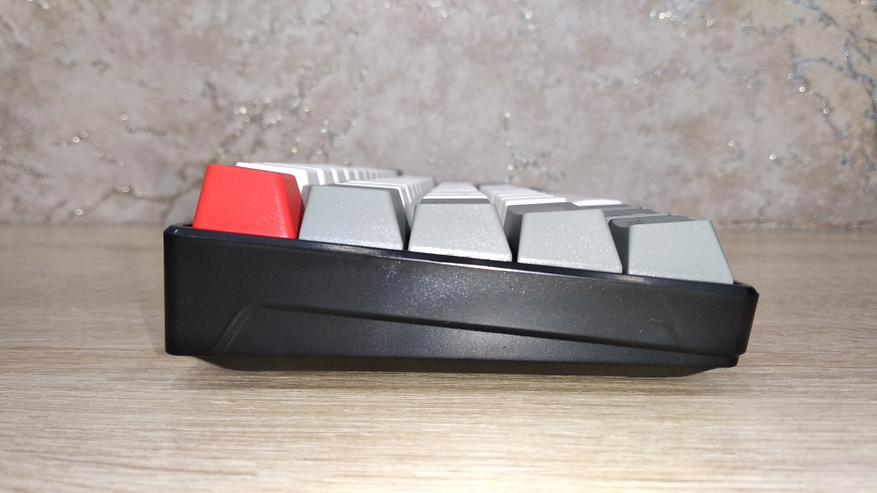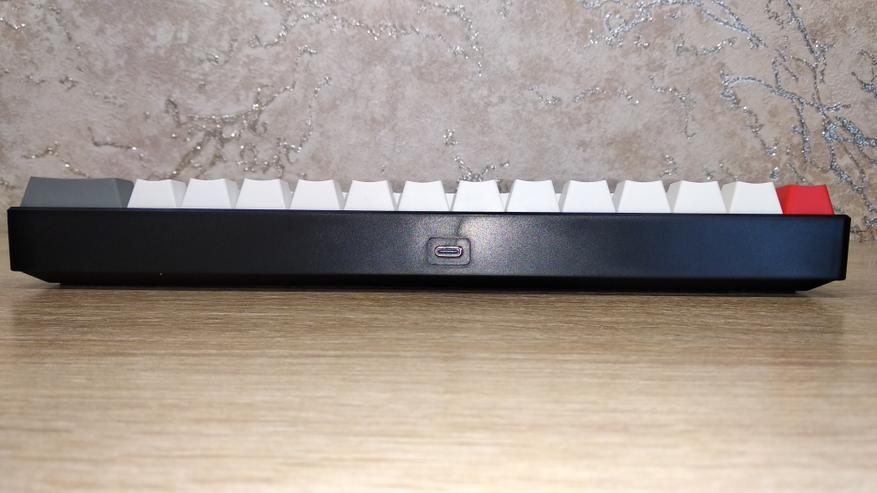 Keyboard format is ANSI: wide shift keys and single-story Enter key. The profile is OEM, all keycaps are concave except for the spacebar, which is slightly convex. The body of the keyboard has a slight incline from the start.
На дне кроме стандартной наклейки с полным наименованием модели, есть еще 4 силиконовые ножки, которые будут препятствовать скольжению, а также есть две выдвижные для изменения угла наклона. Угол регулируется ими еще на два других, т.к. мы помним, что корпус наклонен. В глаза также бросается приемопередатчик с двухпозиционным переключателем вкл/выкл. Отсека для батарей нет, а значит он встроенный Li-Ion.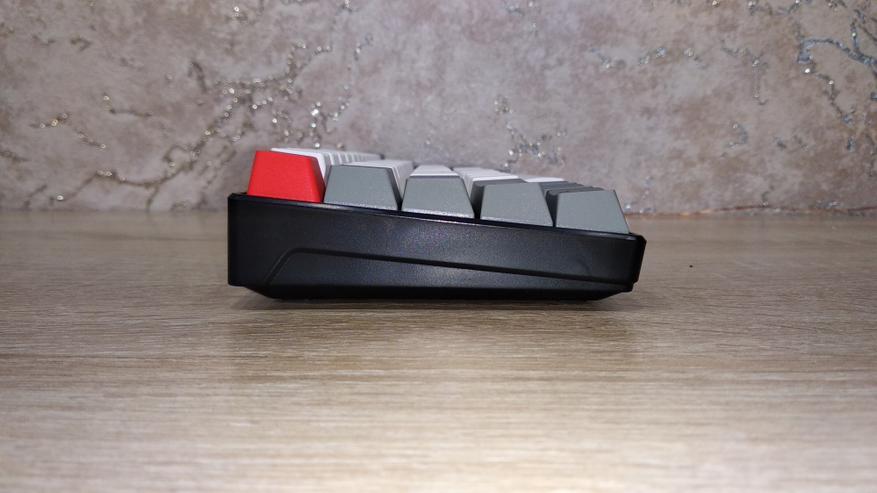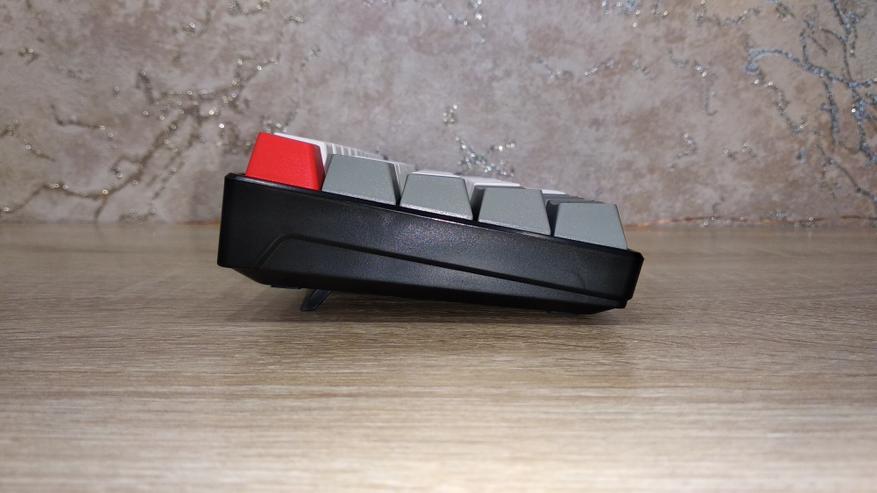 Outemu Brown switches are inexpensive and common in this segment. There is no visible excessive lubrication, but nowadays almost all switches are lubricated in one way or another, and I haven't heard of "dry" switches in a long time, which have a crunch when the key is pressed. However, you can hear the spring ringing here. The stabilizers are installed in the case, and lubrication is already visible on them, which is definitely pleasing. The right side of the spacebar is a bit tighter, but you need to look for and catch that moment. As expected, all wide keys are equipped with stabilizers.
The set includes an additional set of keycaps, which have an inverted color compared to those on the keyboard. They can also be used in case the main ones become polished, as they are made of ABS plastic and this process is inevitable. However, the symbols will not wear off, as the keycap is made by double injection molding. Inside, it can be seen that there is no support in the part where the main symbols are located, which would interfere with the backlight.
There is a tool included in the kit for changing keycaps, as well as for removing switches, as the keyboard has a hot-swap feature. The wired connection is optional, so the cable is made removable, which means we can use any other cable, including a favorite custom one. The box mentions the game Crossout, and there is a code to activate a one-week premium. By the way, the word "Forge" on the spacebar has a noticeable roughness due to engraving. I thought it was a defect, but it turned out to be a repetition of the writing style, as on the box.
Using
Operating the Defender Forge GK-345 is very simple when using the wired connection, just plug it in and use it. This mode is selected by default. If you need to switch to it, press Fn+Q for 3 seconds. Holding down Fn+Y switches to the mode that uses a receiver. Pressing Fn+E/R/T switches to the Bluetooth mode, and there are 3 profiles available that can be quickly switched between.
Brown switches are often recommended as a first choice after membrane switches when someone is unsure about switching to a mechanical keyboard. The switch's operation is very similar in feel to a membrane keyboard, with a tactile feeling of a pressed key, but without the click of a blue switch. Using this specific variant is straightforward, as little force is required, making it an analogue to a soft membrane keyboard.
There are no significant noise isolation upgrades, but users have the option to experiment with vibration, noise isolation/absorption, damping rings, switch films, spring replacements, and lubrication. The user has control over all of these options.
The keyboard features customizable RGB backlighting.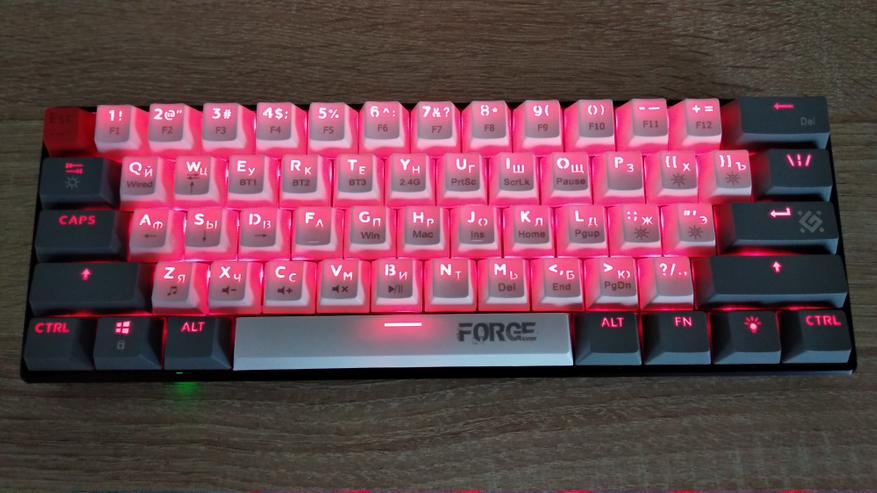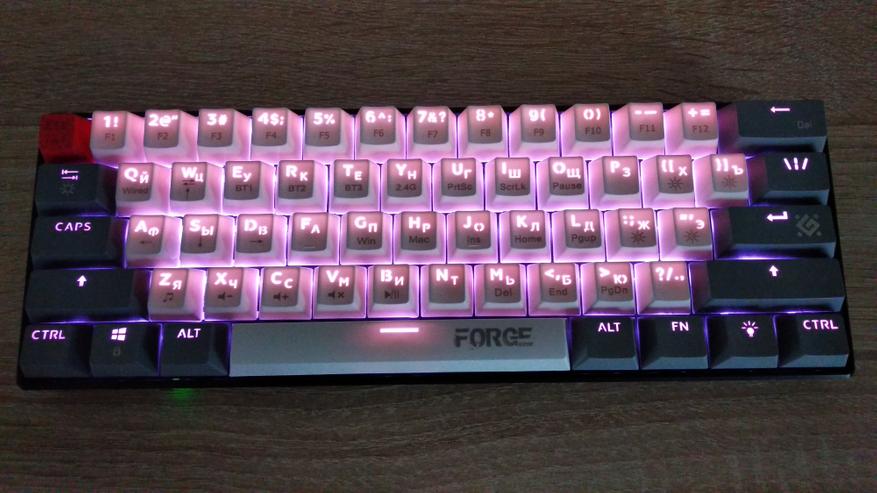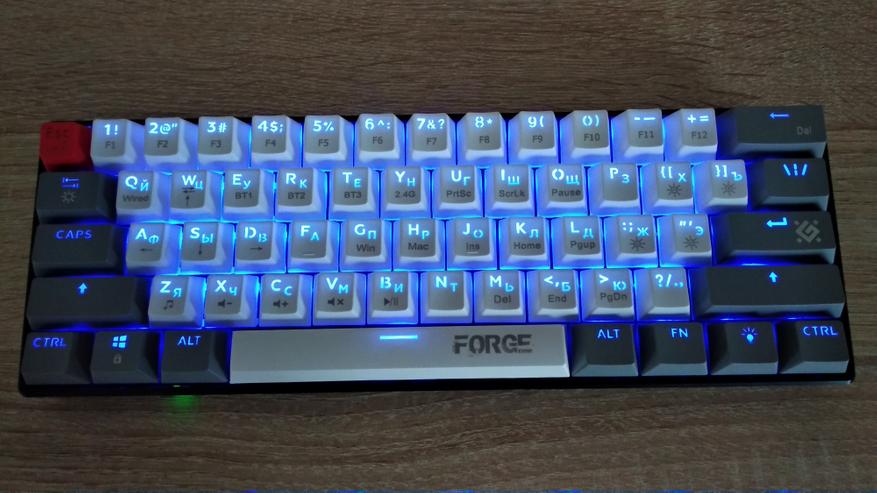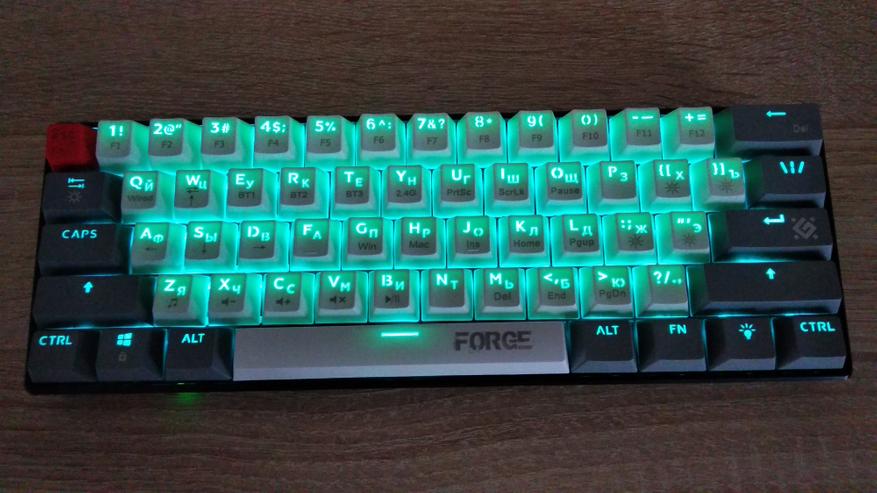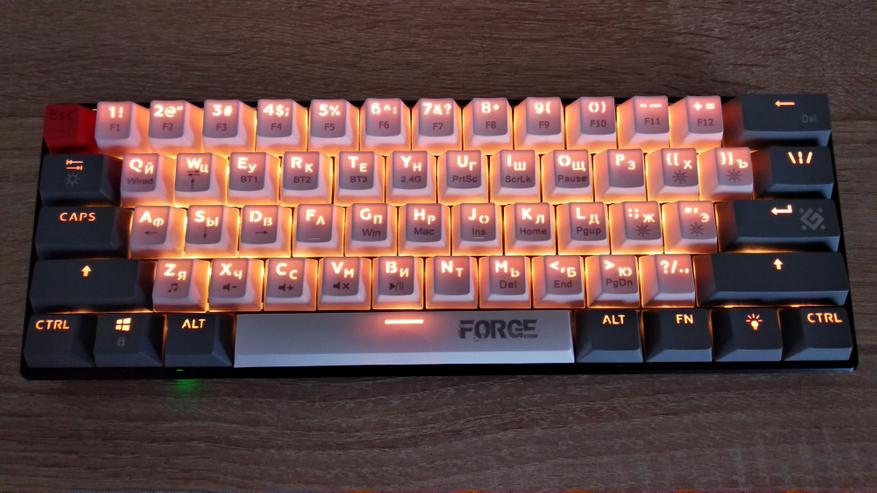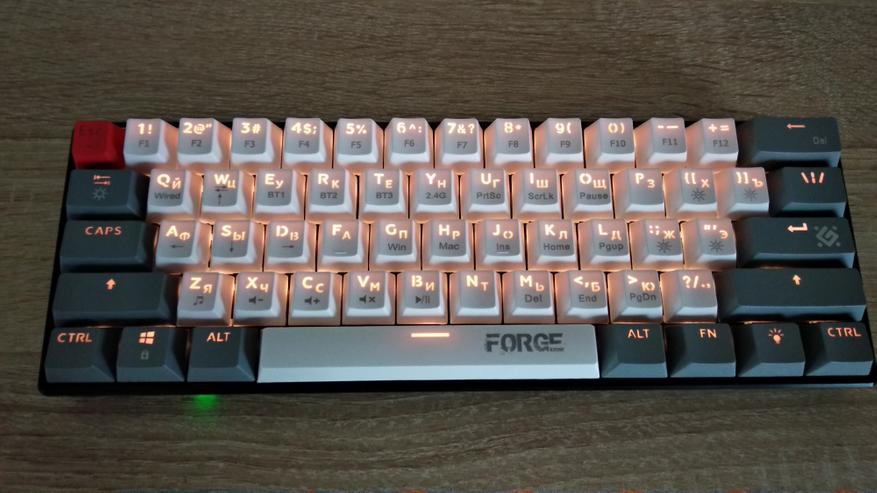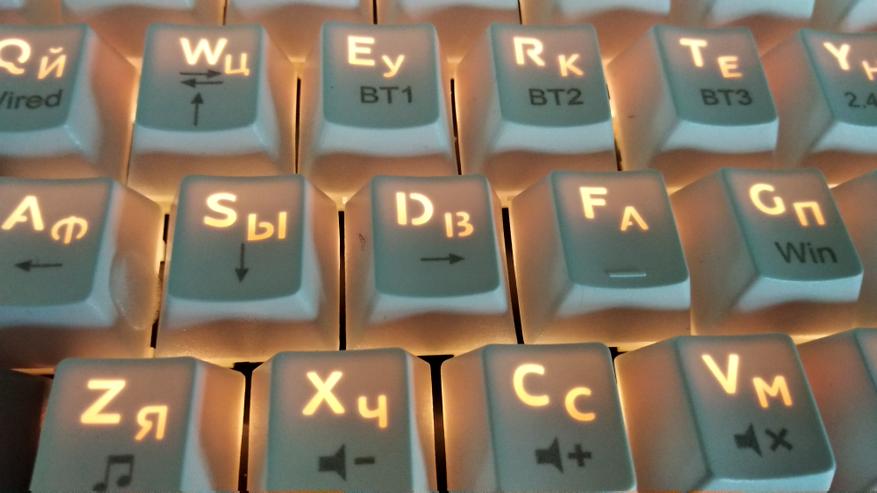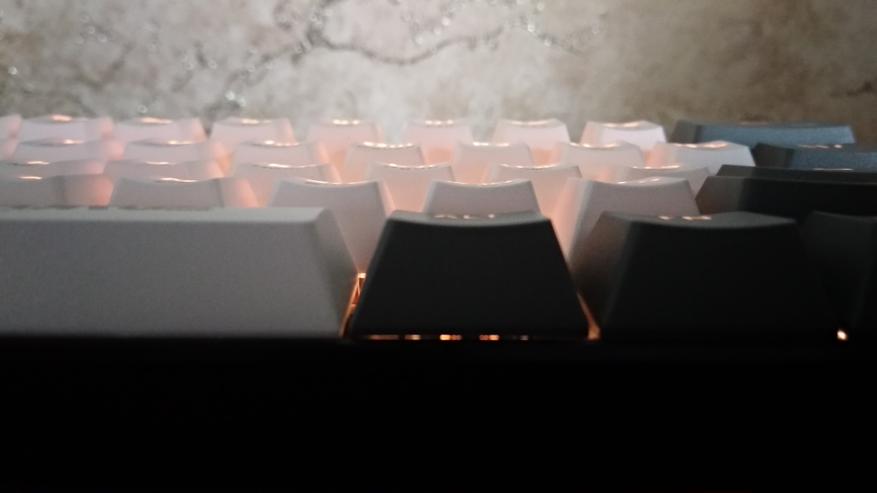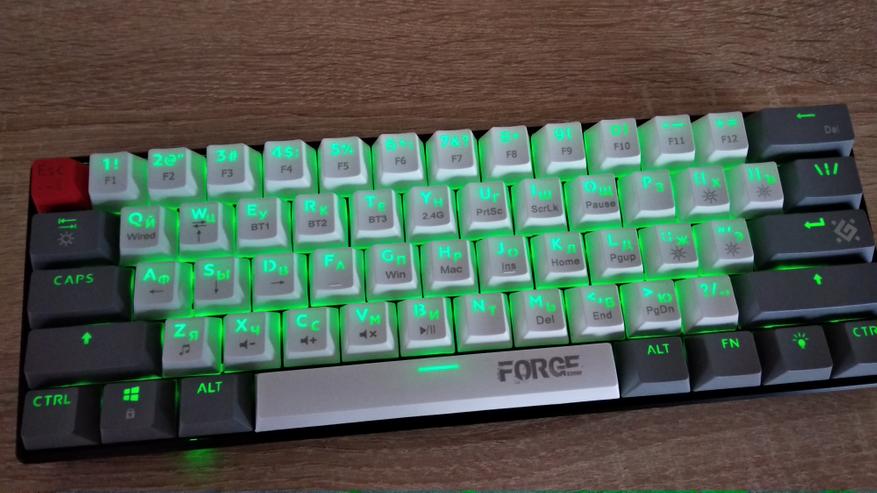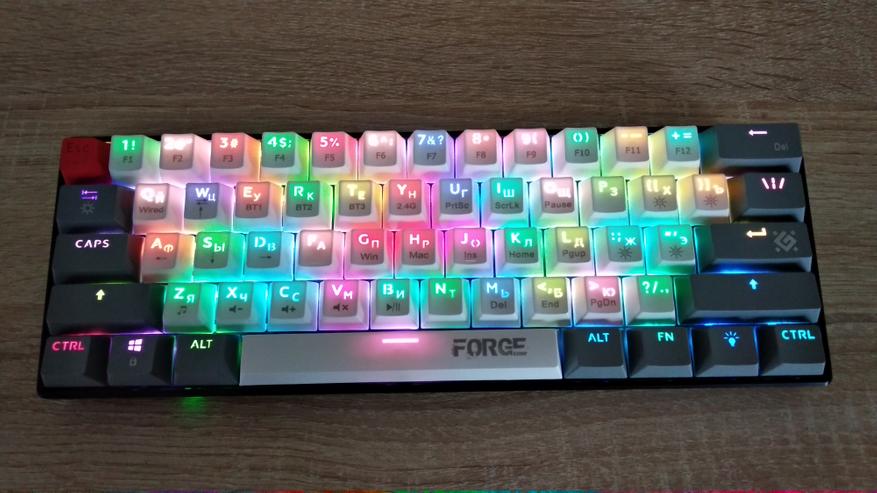 What's the most important thing about backlighting? That's right, the ability to completely turn it off or set a calm mode. Here, all of that is available, and what's great is that it doesn't require additional software. There are a lot of lighting modes - 20, and there are many colors, including at least 3 calm ones. Brightness can be adjusted in 5 levels.
Summary
Defender Forge GK-345 mechanical keyboard proved to be a good starter keyboard that introduces users to the mechanical type while feeling similar to a membrane keyboard. Additionally, this keyboard allows for customization options such as changing keycaps and switches, as tools for removing them are included in the package. All of this is offered at an affordable price.
Reed more https://www.ixbt.com/live/periphery/hot-swap-uotemu-brown-i-ne-tolko-obzor-mehanicheskoy-klaviatury-defender-forge-gk-345-po-neplohoy-cene.html